Not that long ago gamers had a rather limited choice of keyboards, particularly mechanical keyboards, and most were too expensive for the masses. However, over the last few years there has been an explosion of gaming-orientated mechanical keyboards, many of which could be considered affordable, and we've gathered nearly a dozen of them for testing.
Our last peripheral roundup looked at affordable gaming headsets and those were relatively easy to differentiate — some delivered strong bass, others had balanced mid-ranges, and after sampling them it was pretty easy to identify the headsets simply by listening to them. Unlike a majority of mechanical keyboards, the headsets were powered by various driver solutions and housing designs that changed sound dynamics.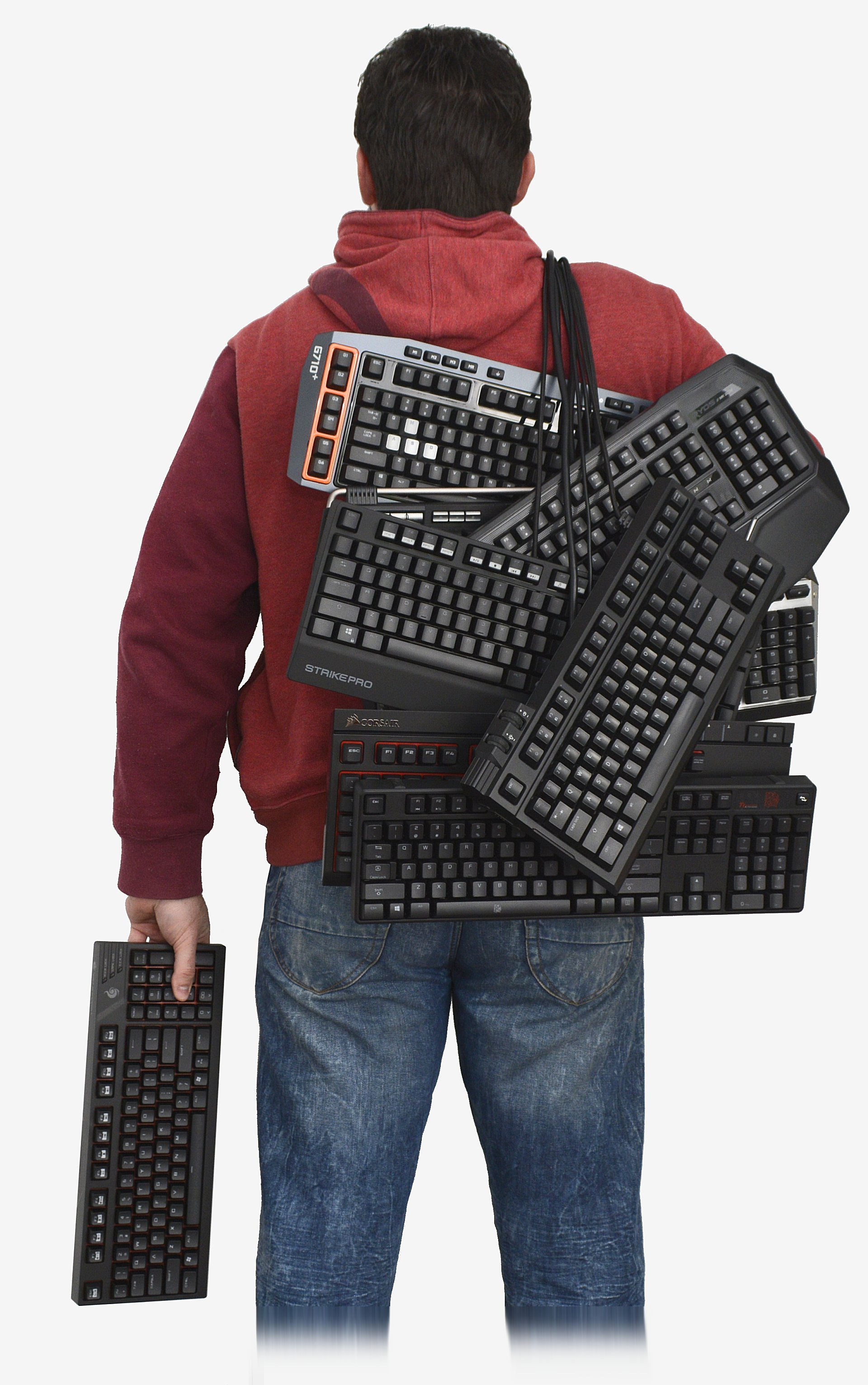 When it comes to mechanical keyboards, the vast majority use the same switch hardware from Cherry MX and those that don't still tend to have knock-off Cherry MX switches such as those from Kailh, which do a pretty good job of replicating the Cherry MX feel. Therefore, keyboard manufacturers aim to differentiate themselves by adding extra features such as macro keys, backlighting, storable profiles, media keys and connectivity.
Looking at major online retailers such as Newegg will turn up over 300 mechanical keyboards for sale and while most of them are priced north of $150, there are still some quality options closer to and below $100.
For this roundup we have selected the Tt eSports Poseidon Z ($75), CM Storm QuickFire TK ($90), Aorus Thunder K3 ($85), Logitech G710+ ($90), Ozone Strike Pro ($100), Roccat Ryos MK ($100), Corsair Strafe ($110), G.Skill KM780 MX ($130) and Cougar 700K ($140).
Although we won't be looking at them in detail, we also have the Tt eSports Poseidon Z RGB ($130), Tt eSports Poseidon ZX ($80), and Tesoro Excalibur Spectrum ($90) on hand. The reason we won't go into detail is that these keyboards are very similar to other models tested. For example, the Poseidon Z RGB and Tesoro Excalibur Spectrum are simply RGB version's of the standard keyboard with a higher asking price.
Ideally, we would have liked to include the Razer Blackwidow ($85) or the Blackwidow Ultimate Stealth Edition ($110), but Razer was reluctant to send either which was disappointing. That said, after some research we're not sure the "All New Razer Mechanical Switches" would have impressed us much, mostly because they're not Razer's own creation despite their claims. Instead they are Kailh switches that Razer has laid claim to.
We still have two other keyboards in our roundup that feature Kailh switches and one brand was more open about their switch choice than the other.
For this roundup we will be focusing on the price of each keyboard and subsequently the features that are offered at that price. Of course we are also interested in how comfortable the keyboard is and how well it works when gaming as well as typing.
Logitech G710+
The Logitech G710+ has been around the block more than once as it enters its third year of production. One might assume after 36 months of faithful service Logitech would retire the G710+ but apparently not.
The G710+'s long reign could be down to the fact that developing a better mechanical keyboard for $90 or less is no easy task.
Designed exclusively for gamers, the G710+ began life at $150 but has been selling for much less for a while now.

At the time, LED-backlit keyboards weren't as plentiful as they are now and the white LEDs of the G710+ were a real selling point. The illuminated keys can be set to one of four brightness levels or disabled entirely. Logitech has also included custom silver keycaps for the WASD and arrow keys which feature independent backlighting zones.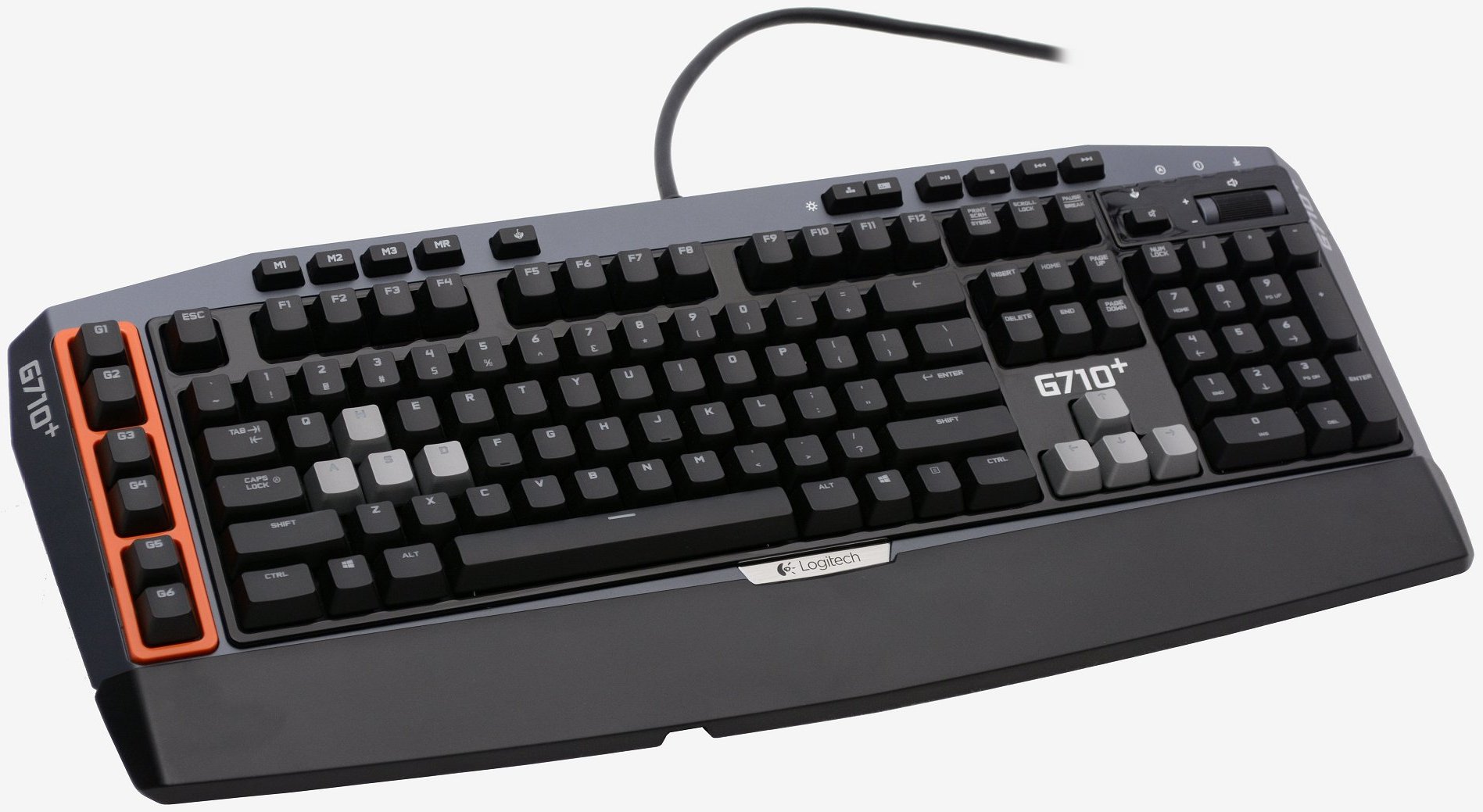 However the key to the G710+ is its use of the Cherry MX Brown switches which are tactile, non-clicky switches. This switch was introduced in 1994 as a special 'ergo soft' switch, but quickly became one of the most popular switches. They are also ideal for typing in office environments, where a clicky switch might annoy some and the light 45 grams of force make them good for gaming and typing.
Helping to reduce actuation noise further, Logitech installed a rubber ring under each key to dampen the sound of bottoming out. As someone who likes the sound of Cherry MX Blue switches, keyboard noise isn't an issue for me, but if you prefer minimal sound with a tactile feel, then Logitech's approach might be the perfect compromise.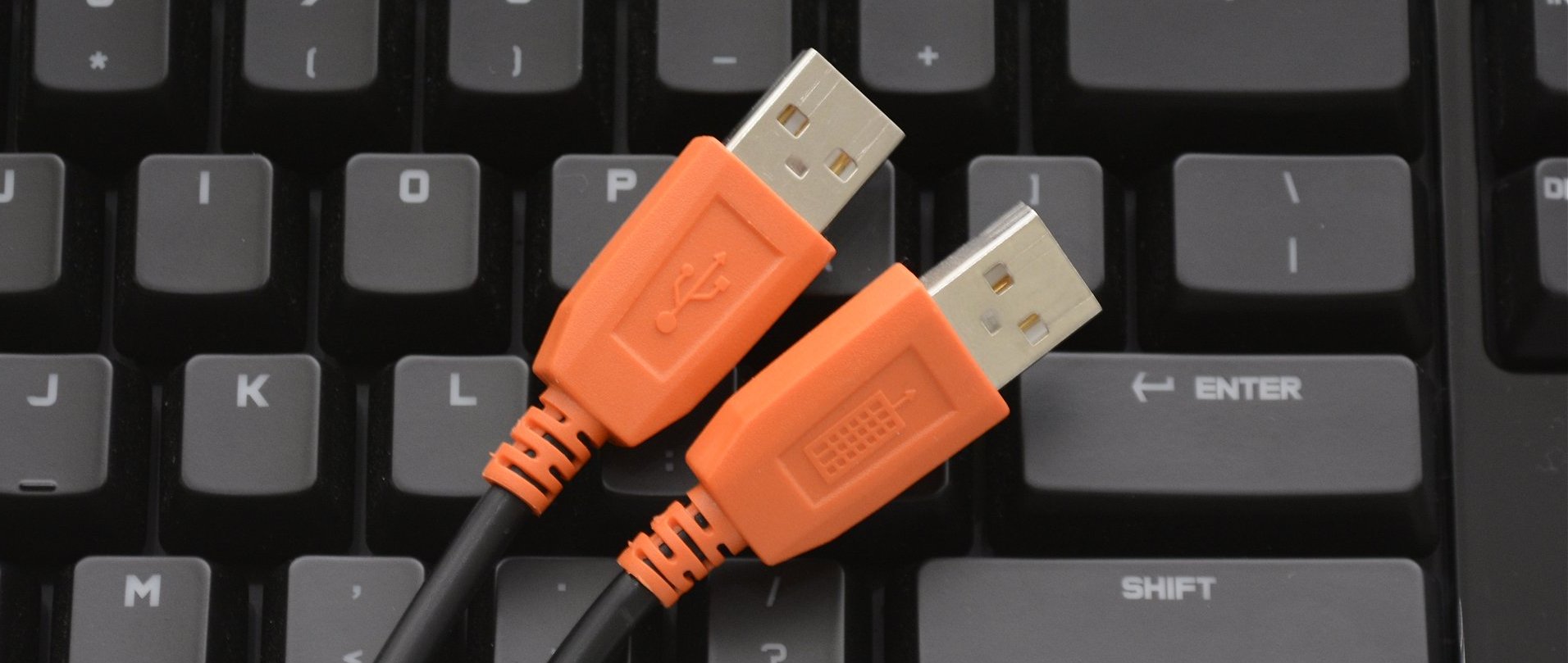 The G710+ is a fairly bland looking gaming keyboard, certainly understated compared to the new G-series keyboards from Logitech and we suspect this is what will draw many gamers to it.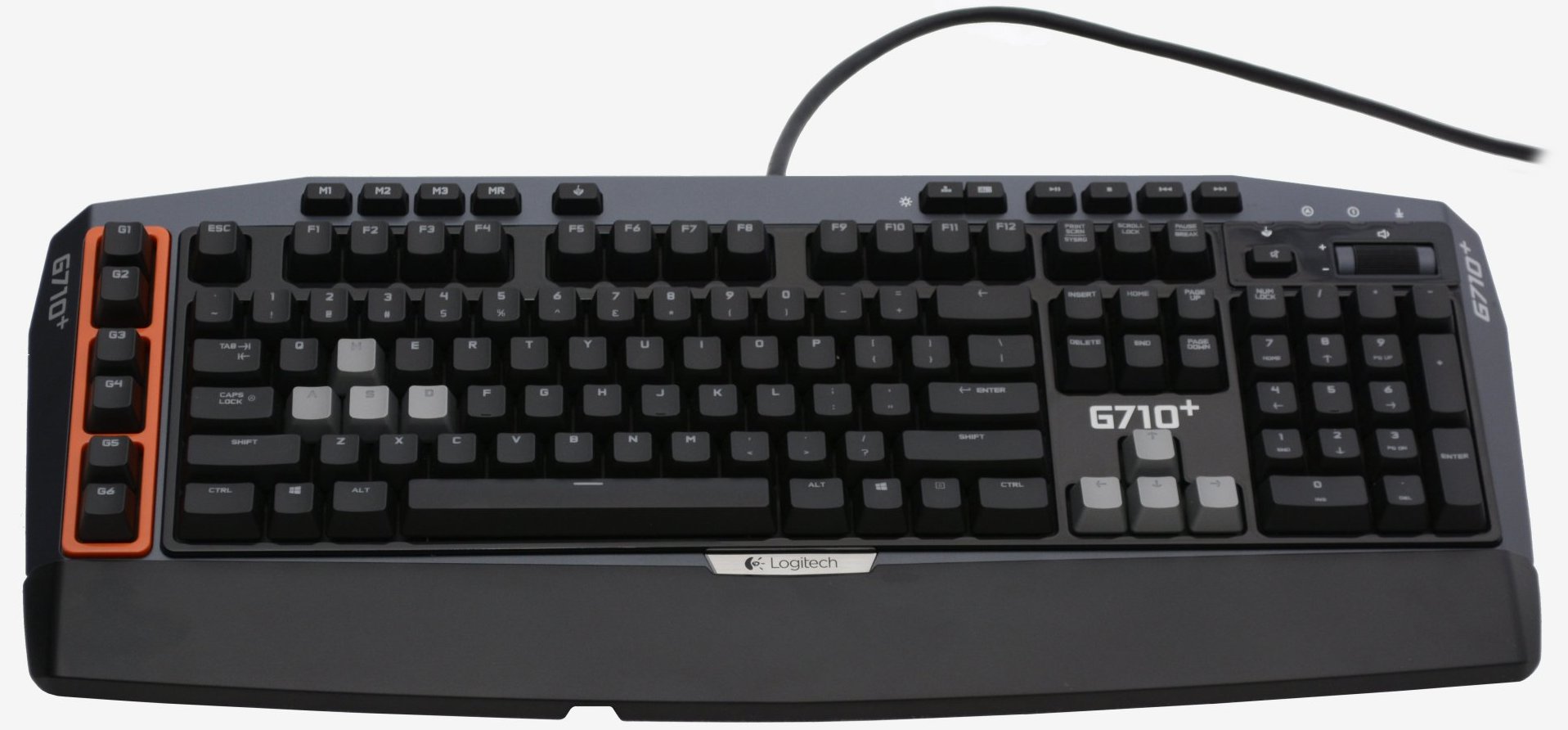 The all plastic design features a gloss black section behind the keys while the keyboard is wrapped in a dark grey color which has been given a matte finish. The only eye catching highlight is an orange boarder around the six programmable G-keys on the left side of the board. There is also a Logitech decal at the bottom of the keyboard just above the detachable wrist rest and a G710+ logo above the arrow keys.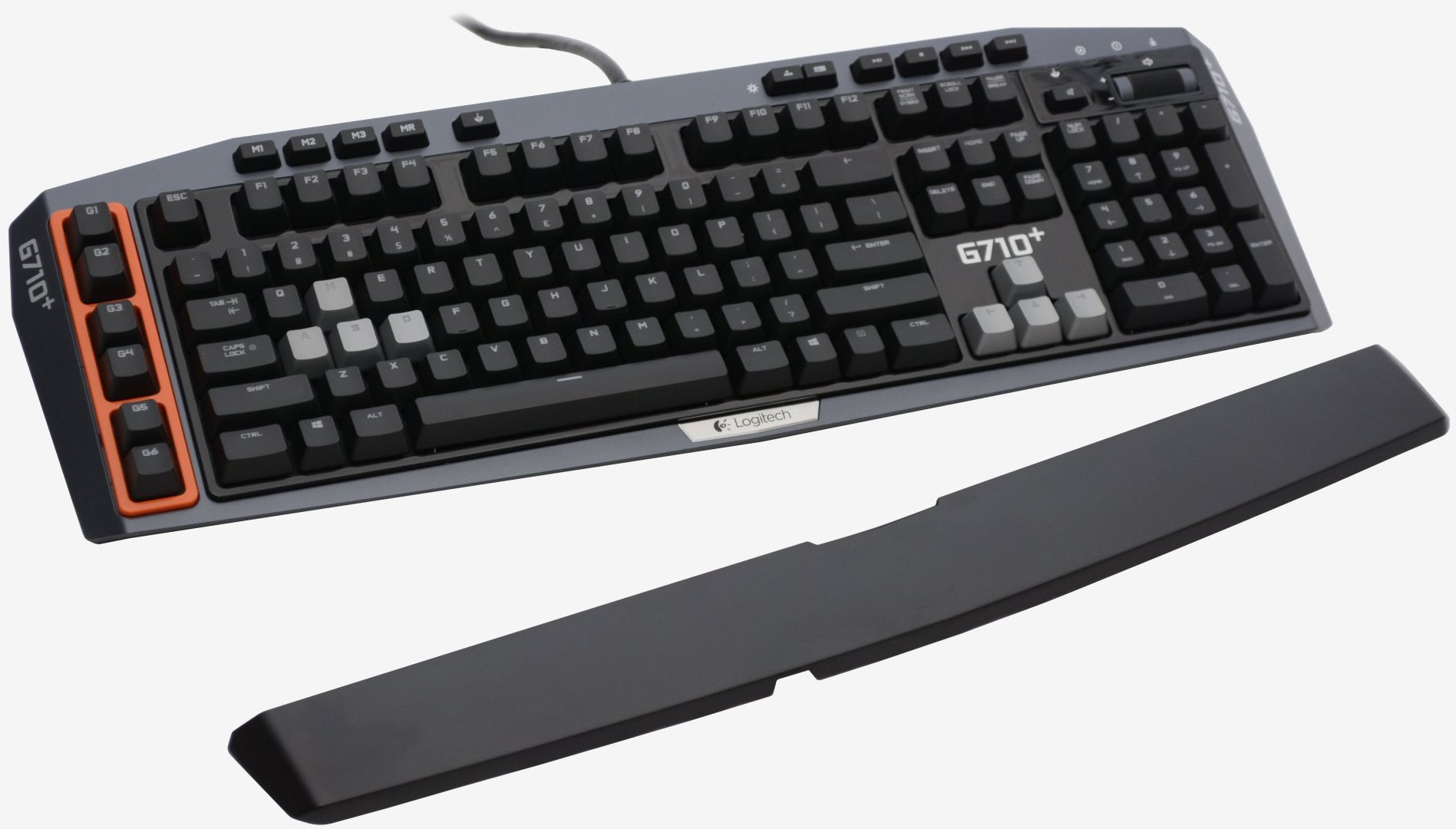 Speaking of the detachable wrist rest, it is a little on the slim side, though I didn't enjoy using the G710+ without it. Perhaps the biggest issue with the wrist rest isn't the size but rather the lack of grip. Whereas the G.Skill KM780 MX, Cougar 700K and Roccat Ryos MK for example all feature rubberized wrist rests, the G710+ just features a plain bit of hard plastic which doesn't offer much support and is pretty uncomfortable.


Looking past the wrist rest, we like how the G710+ offers a macro record key, three mode/profile buttons and a full array of multimedia buttons with a cool scroll wheel for adjusting the volume.

The G710+ offers a USB pass through, though it is limited to USB 2.0 bandwidth which is a shame. That said gamers will likely use this pass through for their mouse, so the USB 2.0 limitation isn't such a big deal. Helping to improve this feature is some nice cable management under the keyboard that sees the mouse cable enter under the left side of the wrist rest.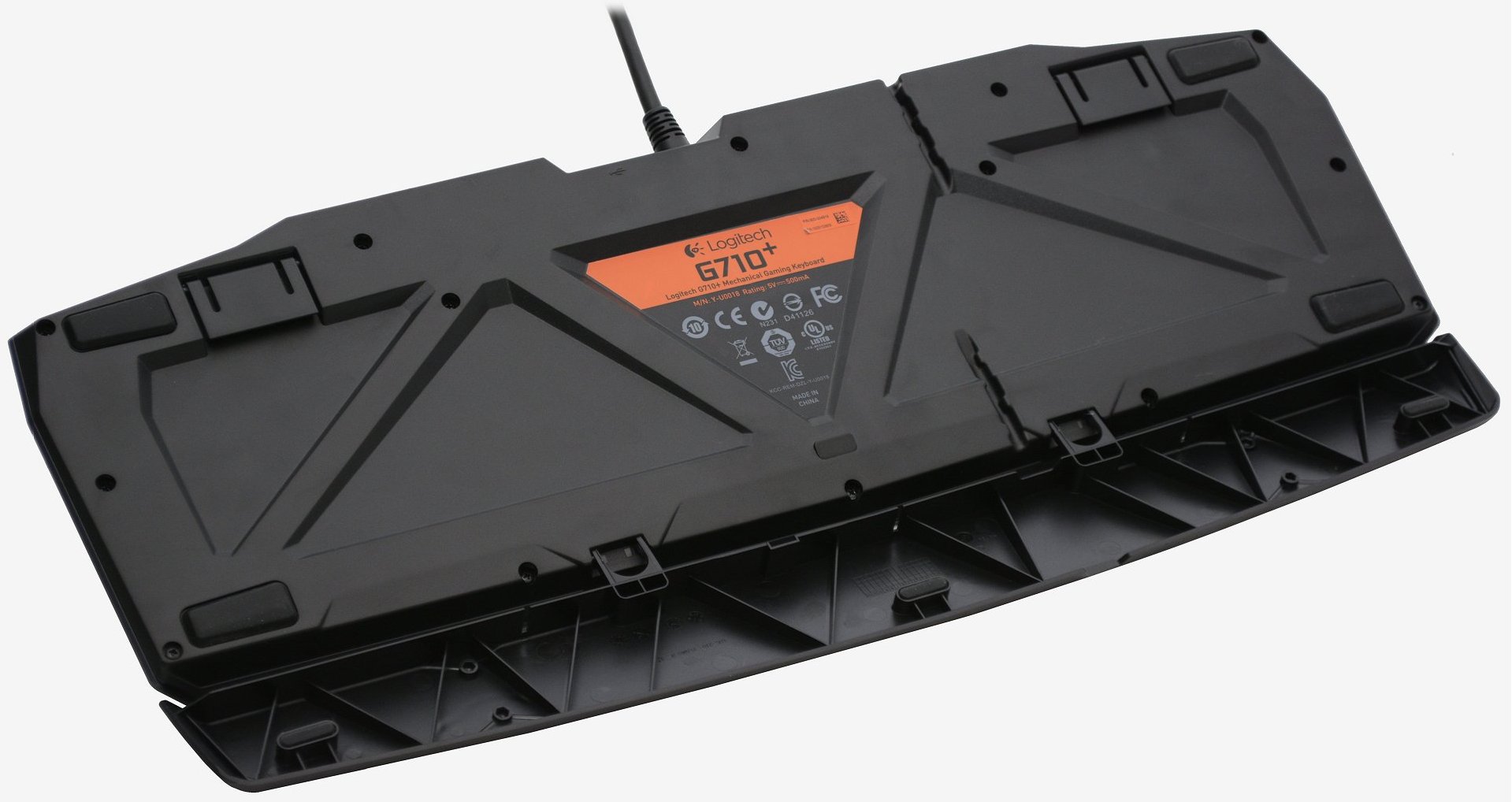 There are also two large feet under the G710+ that raise it a generous amount off your desk to open up the angle of attack.
Because the G710+ has been around for so long now, there is plenty of user feedback online. The majority of user reviews are positive, though there is a reasonable percentage of users complaining about the key caps breaking without being subjected to abuse. This is a concern and while our sample has been used lightly for the past year, it remains in good health. Still, if you are hard on your keyboard then you might want to pass on the G710+.
Source Article from http://www.techspot.com/review/1069-affordable-mechanical-keyboard-roundup/